The People at the Wedgewood Hotel and Spa

ELENI SKALBANIA, Founder
The Wedgewood Hotel and Spa was created over 29 years ago by its Greek born owner, Eleni Skalbania, and to this day, it continues to be a family-run hotel.
Over the years, the foundation upon which Mrs. Skalbania has built the hotel remains solid and consistent; a commitment to personal service, superb quality and insurmountable warmth.
Through her travels and with her distinct sense of style, she collected fabulous antiques, sculptures, paintings, and carpets, all of which form an integral part of what the hotel stands for: uniqueness, comfort and elegance.
Providing a home away from home for countless longstanding guests, international celebrities and dignitaries, the Hotel has become respected for protecting the privacy of all its clients. The Wedgewood has set the standard for fashionable small boutique hotels in Canada.
Eleni Skalbania's attention to detail and her dedication to her guests over the years have led her to become recognized nationally with the Independent Hotelier of the Year Award.

A dedicated philanthropist, Eleni has steadfastly supported the BC Cancer Foundation, both in their research for cures, as well as the acquisition of much needed, state of the art surgical equipment. Millions of dollars have been donated or raised for cancer research through her personal support and that of the Wedgewood Cycling Team. She also supported many other charities within our community and across Canada.
Eleni passed away on September 28th, 2013, following a long battle with Lung Cancer. The Wedgewood is now owned by her daughters, Marousa Dumaresq and Elpie Marinakis Jackson. Elpie is now the Managing Director of the hotel and she possesses the same passion for hospitality and attention to detail as her mother.
ELPIE MARINAKIS JACKSON, Co-owner & Managing Director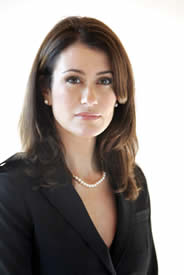 Eleni Skalbania's youngest daughter, Elpie, attended the University of British Columbia where she received her Bachelor in Arts and then moved to the UK to complete a degree in law at the University of Reading.
After returning to Vancouver, she pursued her studies further at the UBC Law School, but she ultimately found her passion for the Hotel business and decided to join her mother at the Wedgewood Hotel. Having been raised in the Hotel business, it quickly became second nature to her.
Now, as co-owner and Managing Director of the Hotel, Elpie continues her Mother's legacy. She has undoubtedly inherited her passion, flair and dedication for the business. Having worked with Eleni for the past 20 years, and traveled around the world herself, Elpie has established her very own fine taste which is now evident in all the changes and upgrading she has brought into the Wedgewood in order to ensure that the Hotel continues to be a leader in comfort, luxury, technology and above all, in service.

PHILIP MEYER, General Manager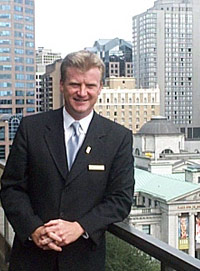 A native of Kent, England, Philip Meyer began his career in UK with his formal training in Hotel Management.
Upon completion, Philip joined the prestigious Queen Elizabeth 2 Luxury Cruise Liner where he worked cultivating his knowledge in Four Diamond, Five Star service and quality.
Following his three years on the QE2, he joined the family owned hotels, the Goring Hotels of London, where he discovered a passion for Managing smaller, more personalized boutique hotels. He then completed several years at some of the top country house hotels throughout the United Kingdom, including the well-known Horsted Place Hotel, until he was offered the opportunity to come to Canada.
For seven years, he was the General Manager of the Sherwood Inn, a double Four Diamond country Inn in the Muskoka region of Ontario.
In 1998, Philip moved to Vancouver, to preside over one of the finest teams as General Manager of the Wedgewood Hotel and Spa.
Philip's success is truly based on his hands on philosophy and his commitment and loyalty to the spirit of hospitality. Often seen at the front of the Hotel greeting the guests personally and ensuring that their every need during their stay is met.
Outside of the Hotel, one of his other passions is cycling, whether escorting hotel guests on tours of Vancouver and surrounding areas, heading the successful Wedgewood Cycling Team or organizing dynamic cycling events throughout the Province in support of the BC Cancer Foundation.

JOANNA TSAPARAS-PICHE, Director of Sales, Marketing & Public Relations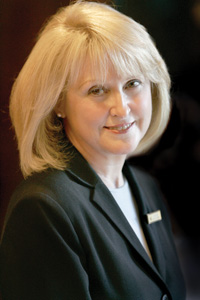 Joanna Tsaparas-Piché's roots, like her sister's, originated in Greece. Her post secondary studies brought her to Vancouver many years ago, a city she fell in love with and decided to make her home ever since. Her business background had been firstly in banking and then, for a number of years, in public relations for the oil industry, while simultaneously raising her family of three boys.
It was not until Eleni got involved in the hotel business, that Joanna entered the field. Starting from operations, she quickly entered the sales, marketing and the, all too familiar, public relations areas, where she truly found her special niche. Having the opportunity to market her sister's new hotel was a wonderful challenge. It was Joanna's love and enthusiasm for the business, however, as well as her natural affinity for people, that have made the task not only easy, but truly enjoyable. Years later, she continues to be an integral part of this beautiful family owned hotel.