Spa in Downtown Vancouver Wedgewood Hotel
Manicure Treatments
Our Spa Manicure treatments at our downtown Vancouver Hotel and Spa will give you the perfect 10 you've been looking for. All hand and foot treatments are performed on heated beds.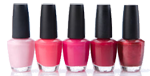 Pacific Coast Manicure & Pedicure
This treatment begins with a relaxing vitamin rich soak to soften the skin followed by a vanilla and brown sugar hand exfoliation to remove cellular debris and improve circulation. A soothing and nourishing ginger and green tea mask is then applied, followed by a buffing of the nails, cuticle care, and hydrating Lavender Paraffin treatment. You will then enjoy a relaxing hand massage to soften your hands and lower arms, or your feet and lower calves; finished with your choice of polish or a natural buff.
Manicure 75 min. $90.00
Pedicure 75 min. $110.00
Wedgewood Classic Manicure & Pedicure
Includes a vitamin rich soak followed by grooming of the nails and cuticles and an aromatic massage of the hands and arms. Finished with a polish application or buff.
Manicure 60 min. $55.00
Pedicure 60 min. $75.00
Nail enhancements: French Polish add $10, Hydrating Paraffin Treatment add $25,
add polish change $25.